2006 HONDA AQUATRAX® F-12X T30 with GPScape & Trailer - AS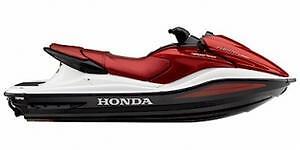 Description:
2006 HONDA AQUATRAX® F-12X SPECIFICATIONS NEVER SEEN WATER - AS NEW & SECURELY STORED UNDER SOFT COVER In 2016 - Serviced for factory recall on Fuel Tank, never pre-owned, nil KM's and in fantastic condition. The Honda AquaTrax F-12X GPScape It just might be the most deluxe personal watercraft ever conceived—with a 1235cc turbocharged four-stroke engine, seating for three, and Honda's own GPScape system, featuring an easy-to-read LCD screen with storage for up to 100 waypoints and a digital compass. Engine The AquaTrax F-12X GPScape has a 1235cc liquid-cooled dry-sump inline 4 cyl with intercooled turbocharger engine that produces 165 horsepower. Don't worry if other models of sky jet have more horsepower, the F-12X GPScape can reach a top speed of 90 KPH easily and the most important fact is that this model has a built in GPS unit, very useful when you're wandering around on the water. Exterior The Unique AquaTrax hull design provides excellent overall stability and exceptional low and high-speed turning performance without sacrificing low-speed manoeuvres. The hull of the F-12X GPScape ski jet is made from fiberglass-reinforced plastic. This model also has a re-boarding step, a reverse lever mounted on the left and a 100 Litre bow storage chamber. Like all the products of the Honda Company this watercraft is safe, reliable and fast. The fuel economy is excellent. It carves and accelerates extremely well. Thanks to the Sponson design this ski jet is has an increase manoeuvrability at low speeds and an excellent stability at high speed. Unique Features GPScape® model features built-in GPS unit with easy-to-read LCD display. GPScape is contained within the standard meter assembly and features storage for up to 100 waypoints and a digital compass function indicating travel direction. When traveling or returning to a designated waypoint, GPScape will tell distance and direction from the present location. Specific features: · (LCD display) · Folding rear step for easy re-boarding. · Chrome 3-D turbo emblem. · Unique graphics package features exclusive colours and stylized Honda Wing on the hull. · Engine/Drivetrain · Lightweight, liquid-cooled, DUAL OVERHEAD CAM 16-valve 1235cc dry-sump 4 cyl engine features a one-piece upper-crankcase/cylinder block engineered to withstand the rigors of marine duty. The inherently efficient, low-emissions four-stroke design consumes less fuel than a comparable two-stroke engine and meets all current CARB and EPA emissions standards. · Class-leading performance is provided by a water-cooled IHI turbocharger with water-cooled intercooler. The AquaTrax® turbocharger produces a max boost of thirteen psi to generate 32 percent more power than a normally aspirated engine. The turbine bearing is an enclosed, ceramic-ball design that withstands sustained high-rpm compressor operation while providing nearly vibration and friction-free performance. Water cooling of the turbocharger housing maintains optimum turbine operating efficiency, while the water-cooled intercooler ensures a denser intake charge to provide max power and combustion efficiency. An electronic control unit (ECU) monitors atmospheric pressure, boost pressure, engine speed, oil and water temperature, intake air temperature and an engine knock sensor to manage an electronic wastegate valve that controls turbocharger boost, protecting vital engine components and maintaining long engine life. · Side-mounted cam chain and ultra-narrow cylinder-sleeve spacing reduce engine size and weight. · Crankshaft main bearings feature a micro-grooved bearing surface to improve oil retention and bearing durability as lateral loading occurs throughout a broad range of operating conditions. · DOUBLE OVERHEAD CAMSHAFT-actuated valves use a simple, lightweight and direct cam-over-bucket design. · Four-valve cylinder-head design with a narrow 30-degree included valve angle creates a compact combustion chamber for optimum efficiency and power output at all rpm levels. · Silent-type cam chain reduces engine noise, while an automatic chain tensioner virtually eliminates maintenance. · Idle screw adjustment conveniently located on front side of engine for ease of adjustment. · Unique gear-driven dual engine-balancer system virtually eliminates high-frequency engine vibration. · Oil jets located on the crankcase main journal castings continually cool piston undersides, ensuring consistent operating temperatures and even better engine life under max power. · Forged pistons and connecting rods are designed to withstand the rigors of turbocharging. The top piston ring land is anodized, and a chrome-plated top ring further enhances durability. · Honda Ignition Control System (ICS) protects the engine from abnormal operating conditions. · Air-intake system features an intake port mounted centrally in the hull and a labyrinth airbox construction with paper air filter. Together they keep water out of the engine during normal operation and if the craft is accidentally overturned. · High-pressure programmed fuel injection (PGM-FI) delivers fuel at 43 psi to 4 injectors, each mounted in a 38mm throttle body. Fuel is delivered through 4 laser-drilled nozzle holes in each injector, producing a highly combustible air/fuel charge for max combustion efficiency and power. · The ECU provides 2 digital 3-D fuel-injection maps for each cylinder, creating the ideal fuel mixture and spark advance settings. A sophisticated throttle sensor and advanced fuel-injection mapping combine to produce smooth and linear throttle response, responding precisely to minor throttle and wastegate adjustments to maximize driveability, acceleration and drive-pump performance. · A unique fast-idle system uses an electric stepping motor to maintain a stable idle speed when the engine is cold. An automatic fuel-enriching system is integrated into the PGM-FI module, eliminating the need for a manual choke. · 4 waterproof, transistorized, direct-ignition coils integrate the spark plug cap and the high-tension lead to produce a high-voltage, long-duration spark, providing max performance at high engine-output levels. · Iridium-tip spark plugs produce max spark performance and minimal carbon build-up for consistent engine operation and long spark plug life. · Powerful, compact, oil-cooled alternator contributes to the engine's lightweight design. · Oil pump is driven by the alternator, further contributing to the engine's lightweight design. · Stainless-steel oil cooler for lower temperatures and corrosion resistance. · Engine cooling system allows water from the jet pump to circulate through 2 separate circuits to cool the engine and exhaust manifold, ensuring consistent operating temperatures for each system. · Unique three-way coolant coupler and specially designed discharge outlet reduce engine coolant flow during idling and low-speed operation to prevent over-cooling, ensuring smooth operation and low emissions. A one-way valve permits simplified coolant-system flushing. · Dry-sump engine incorporates an oil reservoir mounted adjacent to the cylinder bank. The tank shape and location, together with a specially designed internal multi-baffle system, optimize engine lubrication under a wide variety of marine operating conditions. · A uniquely designed crankcase breather system featuring 3 breather chambers prevents oil from flowing out of the engine or clogging the breather system if the PWC is accidentally overturned. · Engine-cooling water circulates through the turbocharger housing to enhance compressor life. · Water-cooled cast-aluminum exhaust manifold contributes to total heat management and reduces exhaust noise. · Output end is directly coupled to the jet pump drive via a rubber damper, providing shock-free, efficient power transfer while minimizing lateral crankshaft load forces. · Engine power and pump characteristics are carefully matched for max performance without the use of power-robbing gear-reduction systems. · Axial-flow single-stage Solas 155mm jet pump with three-blade impeller is matched to the four-stroke power characteristics. A proprietary Honda impeller design and ECU control of the turbocharger wastegate minimize pump cavitation, resulting in quiet pump operation and extended impeller life. · Pump servicing features include easy-to-disassemble pump, driveshaft and driven coupling, and an easily accessible driveshaft-bearing grease fitting. · Hull · AquaTrax F-12X GPScape · Unique AquaTrax hull design provides excellent overall stability and exceptional low and high-speed turning performance without sacrificing low-speed manoeuvres. · Dry-sump design allows the engine to be mounted low in the hull, resulting in a very low centre of gravity that contributes to the AquaTrax's exceptional handling performance. · Raised hull design aids in docking and provides excellent splash protection. · Sponson design further contributes to the AquaTrax's low-speed manoeuvrability and high-speed stability. · Strong, lightweight fiberglass reinforced plastic (FRP) hull and deck are permanently joined and sealed at the gunwale, providing the AquaTrax with a distinctive and attractive profile. · The liner-type FRP inner hull increases hull rigidity more than 200 percent compared to a single-hull design. · AquaTrax hull is designed to be a stable platform for mounting from deep water and to be easily uprighted in case of accidental overturns. · Footwell areas have an anti-slip surface to provide sure-footed comfort when mounting, operating and dismounting the AquaTrax. · Forward-located, large-capacity 16.6-gallon polyethylene fuel tank is attached to the hull with rubber-cushioned hold-down straps. A two-way valve is provided to control internal tank pressure and prevent water incursion or fuel leakage if the hull is accidentally overturned. · Abundant storage is available in 2 sealed compartments, with a large 23.1-gallon front storage box located under the front hood and a smaller 2.5-gallon compartment located in front of the rider. · Extra features · ICS senses low oil-pressure and/or abnormally high coolant temperatures and acts to limit or shut off engine operation as necessary. If oil pressure drops below the optimum level, the ICS limits engine speed to 3000 rpm. Extremely low oil-pressure stops the engine. If high coolant temperature is detected, a warning light and audible alarm are activated. ICS also shuts off the engine after the hull is accidentally overturned. · AquaTrax's selectable Limit Mode provides a lower top-speed setting, ideal for beginning riders, borrowers and rental users. The system displays "Limit Mode" on the multifunction display when activated and can be reset with push-button controls. · Electronic keyless ignition system (ID mode) allows operator to select from 999 possible identification numbers to effectively deter unauthorized use. · Waterproof instruments feature a digital LCD for GPScape, speed (mph), trip distance (miles), travel time (hours and minutes) clock and engine hour-meter; LCD analog bar-graph display for engine speed and fuel level and flashing indicator light and audible alarm for fuel level, battery charge, coolant temperature, oil pressure and fuel injection. · Self-diagnosing ECU cycles at start-up and operates continuously during operation to provide immediate troubleshooting and warning functions. · Operational lanyard tethers the ignition button to the operator's wrist or personal flotation device (PFD) and stops the engine if tether comes unplugged. · The fully sealed fuel system is leak-free and vapor-free, eliminating the possibility of water contamination. · Anticorrosion treatments for die-cast aluminum components include alodine/alumite chromate surface plating with an additional Superlac topcoat for exterior components, and epoxy-resin-based primer applied to coolant-exposed parts before alodine/alumite treatment. · Extensive use of stainless-steel, chrome-plated and zinc-plated stays and fasteners. · Waterproof electrical couplers and spark plug/coil caps. · Rubber engine mounts feature two-phase damping to simultaneously minimize engine vibration and engine shock when the AquaTrax is traversing rough water. · Simple and durable mechanical cable steering system directs the jet-nozzle's thrust for directional control. · Hand-operated controls include right-handlebar-mounted trigger-type throttle control operated by pulling the trigger back to increase engine speed and by releasing the trigger to return engine speed to idle; sealed stop and start buttons on the left handlebar; and a Reverse lever faired into the upper-left shelter. · Durable, paddle-type speed-sensor assembly is flush-mounted on the bottom of the ride plate and provides accurate performance in all riding conditions. · Handle bars are equipped with a cushioning pad for extended rider comfort. · Dual wide-view, color-matched, aerodynamic mirrors are both attractive and functional. · Seat cushions are made from urethane foam material and covered with UV-resistant marine-grade vinyl to enhance durability and longterm appearance. · Folding rear step for easy reboarding. · Seat strap for easier reboarding. · Fire-extinguisher storage is located underneath the rear passenger seat. · Fully sealed, maintenance-free 18AH battery. · Stern-mounted trailer tie-down loops provide convenient points for securing the AquaTrax during transport. · Transferable one-year, limited warranty; extended coverage available with a Honda Protection Plan. 2006 Model ARX 1200 T30D VIN US-HPSE1096E606 Engine Number: SWOIE-4006546 IDENTIFICATION MODEL TYPE 3-4 Passenger ENGINE TYPE In-line CYLINDERS 4 ENGINE STROKE 4-Stroke HORSEPOWER (BHP/KW) 165 / 123.1 HORSEPOWER RPM 7000 COOLING Water (Open Loop) VALVES 16 VALVES PER CYLINDER 4 VALVE CONFIGURATION DOUBLE OVERHEAD CAMSHAFT BORE (MM/IN) 79 / 3.11 STROKE (MM/IN) 63 / 2.48 DISPLACEMENT (CC/CI) 1235 / 75.4 COMPRESSION RATIO 8.5:1 STARTER Electric FUEL REQUIREMENTS Mid Grade FUEL TYPE Gas TURBOCHARGED Yes SUPERCHARGED No FUEL INJECTOR Yes FUEL INJECTOR SIZE (MM) 38 CARBURETOR No CARBURETION TYPE Fuel Injected SPEED GOVERNOR Yes KILL SWITCH / TETHER CORD Standard EMERGENCY ENGINE SHUT-OFF Standard SOUND REDUCTION Standard TRANSMISSION: TRANSMISSION TYPE Direct Drive REVERSE Yes THROTTLE TYPE Finger STEERING: STEERING BRAND Off-Throttle Assisted Steering™ (OTS) STEERING TYPE Manual STEERING ASSIST SYSTEM Yes STEERING CONTROL Handlebar TECHNICAL SPECIFICATIONS: LENGTH (FT) 10.49 WIDTH (IN/MM) 49 / 1244.6 HEIGHT (IN/MM) 41.7 / 1059.2 LENGTH (FT/FT) 10 LENGTH (FT/IN) 6 DRY WEIGHT (LBS/KG) 792 / 359.3 PAYLOAD CAPACITY (LBS/KGS) 524 / 237.7 FUEL CAPACITY (GAL/L) 16.6 / 62.8 STORAGE CAPACITY (CUFT/GAL/L) 4 / 25.6 / 112.8 ENGINE DISPLACEMENT TO WEIGHT (CC) 1.56 SEATS: SEAT TYPE Two-Piece ADJUSTABLE No SEAT MATERIAL Vinyl SEAT LOCATION Driver and Passenger SEAT SHOCK No NUMBER OF SEATS 3 GRAB RAIL OR STRAP Standard EXTERIOR: BODY MATERIAL Fiberglass Reinforced Plastic (FRP) HULL MATERIAL Fiberglass Reinforced Plastic (FRP) HULL TYPE Modified V FLOOR BOARD LOCATION Driver and Passenger SKID RESISTANT Yes HAND GRIPS Standard HANDLE BARS Standard SPONSONS Standard BOARDING STEP Standard INSTRUMENTATION: DIGITAL INSTRUMENTATION Standard CLOCK Standard TACHOMETER Standard TRIP ODOMETER Standard SPEEDOMETER Standard HOUR METER Standard TEMPERATURE WARNING TYPE Light FUEL LEVEL WARNING TYPE Gauge GENERIC TYPE (PRIMARY) 3-Passenger MANUFACTURER COUNTRY Japan PARENT COMPANY Honda DISPLAY NAME AquaTrax® F-12X TOWING & HAULING: TOW HOOK Standard DRIVE LINE: JET PUMP TYPE Axial Flow JET PUMP DIAMETER (IN/MM) 6.1 / 155 JET PUMP REDUCTION-NOZZLE DIAMETER (IN/MM) 3.4 / 87 IMPELLER MATERIAL Stainless Steel NUMBER OF BLADES 3 CONVENIENCE: KEYLESS IGNITION Standard ANTITHEFT SYSTEM Standard BILGE SYSTEM TYPE Automatic Siphon STORAGE: GLOVE BOX / DASH STORAGE Standard FRONT STORAGE WELL Standard GLASS: REARVIEW MIRRORS Standard PAINT & FINISH: PAINT Standard
Visit Our Partner Website
This listing was posted on another website. Click here to open:
Go to eBay
Important Safety Tips
Meet the seller and test drive before you buy.
Be cautious of underpriced items.
Don't wire money or take advance payments.
Only pay for shipping if you know the seller.
To learn more, visit the Safety Center or click here to report this listing.